The Sahara Desert experienced a rare and natural Christmas gift this week, after decades. An amateur photographer named Karim Bouchetata captured rare and beautiful images of snowfall in the Sahara desert, after 40 years.
Karim Bouchetata photographed this scene on Monday, in the small Algerian town  of Ain Sefra, which lies in the Atlas Mountains on the northern edge of the desert. Snow was last seen in this area, which is known as "The Gateway to the Desert", on 18th February, 1979, where it lasted just half an hour.
The images portray a thin layer of snow resting on deep orange dunes, where he said it stayed for about a day. The snowfall formed whirling patterns where the slopes were too steep for it to settle. Snow was reportedly last seen in Ain Sefra in 1979, when a half-hour snowstorm stopped traffic.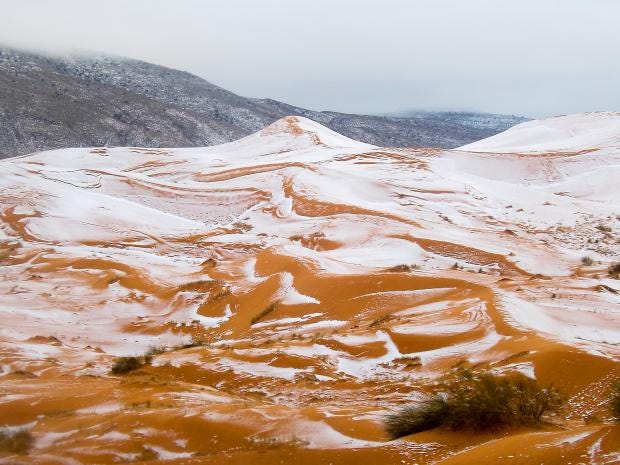 This is obviously such a rare occurrence as well as it could be a once in a lifetime beautiful experience. Bouchetata proved what it means to be at the right place at the right time. 
"Everyone was stunned to see snow falling in the desert, it is such a rare occurrence" said Bouchetata.
"It looked amazing as the snow settled on the sand and made a great set of photos"
EN
FR