N:B. Very Disturbing Images
This is so sad! This young and vibrant Nollywood actor just got seriously injured by fire and is lying in the hospital in a very critical condition. All in the name of what- Special Effects.
This all went down on the set of "Behind the Wheels" an upcoming movie directed by Stanley Ohikhuare. Nollywood actor Ani Iyoho was playing one of his roles which involved a fire incident. It was then that the fire got wild, got hold of his clothes and extended to all parts of his body.
He struggled to take off  his clothes no way. Some shouted for the fire extinguisher to be used but unfortunately the fire extinguisher was not working. The actor  rolled on the floor to reduce the effects but that couldn't have helped in such a short notice. His entire body got burnt.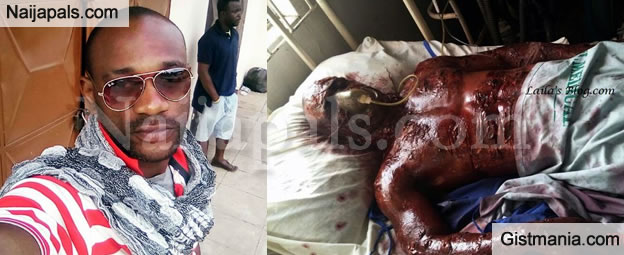 All of these happening on the set of an award winning Movie Director. The situation as portrayed was already an unbearable one but guess what the Director was busy doing- he continued shooting. Trying to get a more realistic shoot from the already disastrous event. This is so pathetic. I mean that young man could have died on the spot.
All attempts at reaching the movie director, as well as the movie producers Kelechi Udegbe and Ugochukwu Azikiwe have failed. It is said that they are on the run. We just pray for the young Nollywood actor Ani Iyoho's quick recovery.
What happened to common safety measures? Hope this stupid act of negligence is the last of its kind.
EN
FR