Today's Quote
"The fact is that the amount of money startups raise in their seed and Series A rounds is inversely correlated with success."
Fred Wilson, Union Square Ventures
Africa
Lidya raises $6.9 million to improve access to credit for Africa's MSMEs
Globally, micro, small and medium-sized enterprises (MSMEs) are one of the strongest drivers of economic development, innovation, and employment. Yet, access to finance is a critical barrier to growth for these businesses. However, Nigeria's leading fintech startup, Lidya emerged in 2016 to improve access to credit for MSMEs in Africa. Now, the firm has raised $6.9 million, one of the largest in Nigeria's tech history.
Since inception in 2016, Lidya has made over 1,500 business loans to help MSMEs in farming, hospitality, logistics, retail, real estate, technology, and health to get the capital they need to grow their operations.
Last year, Lidya closed a US$1.25 million seed funding round to further its mission of easing access to finance for small and medium enterprises (SMEs) across Africa. This new fund injection will allow Lidya to expand its loan book, scale in Nigeria, enter new markets in Africa, and bring in more skilled professionals, particularly data scientists and engineers.
Cameroon to acquire 25 railway cars
Cameroon in association with Camrail is about to acquire 25 railway cars constructed by Franco-Korean company CIM-SSRT. This was revealed at the interministerial committee on railway infrastructures held in Yaounde on May 20, 2018.
According to the meeting, negotiations for the financing agreement are in progress and a mission delegated by the Prime Minister has just sojourned outside the country.
However, these new railway cars will help re-launch the high-speed train voyages between Douala and Yaoundé. It will also help reduce transport time.
Why's Washington charging missiles towards Yaounde?
Last week, the political atmosphere in Cameroon's political capital Yaoundé, grew a little tenser. For the first time in his 36 years as president, Biya received a verbal missile from US ambassador.
Southern Cameroon's interim government (Ambazonia), claims that Biya's Francophone government is carrying out a genocide in West Cameroon, with its troops burning and destroying Southern Cameroons towns and villages. The U.S. ambassador to Cameroon, Peter Barlerin, backed the claim during a fiery meeting with the 85-year-old president.
While this tension may not result in any kind of war between Yaounde and Washington, it may undoubtedly, result in the collapse of the Biya regime. The US fears that Cameroon is heading towards disintegration and that may have a spillover effect on neighboring countries. It's true that Washington and Yaoundé have never been on opposite sides of international politics. But the rift developing now is an indication that Biya's time might be overdue.
Twitter recognizes Swahili as a language
US-based microblogging platform Twitter recently added the capability to detect Swahili words in tweets and translate them. Kiswahili, which is widely used in East Africa, is Kenya's national language and it unites the people of Kenya.
Twitter's official recognition of Swahili as a language has just created history because it became the first African language to achieve that accomplishment. Swahili is however yet to be added in the language settings of Twitter.
The network now recognizes Swahili words and offers a translation of the widely spoken and written East and Southern African language.
Uber Eats acquires South Africa's online ordering firm
Uber Eats is an American online food ordering and delivery platform launched by Uber in 2014 and based in San Francisco, California. Recently, Uber Eats acquired South Africa's leading provider of online ordering software, orderTalk as part of its strategy to improve efficiency.
According to OrderTalk's chairman Maurice Abboudi,  Uber Eats would benefit from technology that reduces the prospect of mistakes being made in the kitchen when orders are processed.
Hopefully, this deal should help solve Uber Eats's problems which presently works with more than 100 000 restaurants in 200 cities and 35 countries.
Janngo raises $1.18 million in its funding round
Ivory Coast's social startup, Janngo has closed its first funding round after raising $1.18 million. This will be used to enable it to launch and grow new digital platforms targeting African SMEs while creating tech-enabled jobs at scale for women and youth.
According to the startup's Chief Executive Officer, Fatoumata Bâ, they want to empower African SMEs leveraging technology to improve access to market and business performance.   As such, they aim at building turnkey solutions to support the growth of these SMEs. They will also help them access new market opportunities, build capacity, improve their productivity and boost their competitiveness.
Investors in the round include family office (Mulliez Family), an investment bank (Clipperton), and international trading platform (Soeximex).
Egypt experience increase in revenue due to tourism visit
Traveling is a way of life for most people as it gives them an opportunity to learn new things. However, it also serves as a source of income, especially to Egypt's economy.
According to Rania al-Mashat, Egypt's Tourism Minister, this year's tourism revenues were projected to reach $8 billion, up from $7.6 billion last year, when 8.3 million people visited Egypt. Also, the opening of the country's Grand Museum in 2019 would contribute to the positive development.
Just as the United Nations World Tourism Organization recently revealed Egypt as one of the world's fast-growing tourist destination, the country waits to welcome more tourists and in the same way, boost its economy.  
World
President Trump may or may not have a deal to save ZTE
ZTE is one of China's largest tech companies – and one of the US's top smartphone suppliers. Last year, ZTE pleaded guilty to violating sanctions by shipping US equipment to Iran and North Korea and never followed through on its settlement deal. In retaliation, the US banned American companies from dealing with ZTE until 2025. This month, ZTE shut down its main operations, putting thousands of Chinese jobs at risk.
But Trump promised to help ZTE get back on its feet as part of ongoing talks to avoid a US-China trade war which has been looming since early this year when Trump put new tariffs on Chinese products.
At first, it seemed like Trump and China agreed on a deal to save ZTE. Then Trump said 'not yet' because he's not happy with how trade talks are going with the country. But even if they had come up with a deal, a Senate committee wants it to pass through Congress first.
Trump's pulling the plug ahead of nuclear summit meeting
Donald Trump has canceled his planned summit with North Korean leader Kim Jong-un, blaming increasingly hostile rhetoric from Pyongyang.
After years of weapons tests and threats, North Korea recently seemed ready to put down its nuclear weapons and talk things out with the US. The date was set for a June 12 between Trump and Kim. Then, the North threatened to back out and said something about a "nuclear showdown."
On Thursday, Trump wrote a strongly-worded letter saying he's canceling the summit because of all the "open hostility." But he left the door slightly open. So did North Korea.
Amazon, can I get some privacy?
For the past several months, Amazon has given police in Florida and Oregon facial recognition tools for less than $12/month. Amazon says the software, Rekognition could help them find missing people. But the previously undisclosed surveillance programs now face the wrath of civil rights advocates who fear the program will target vulnerable populations.
Introduced in 2016, Rekognition was billed as a tool for marketers to spot celebrities and weed out R-rated content. But, with the video surveillance market on its way to $62 billion in 5 years, Amazon couldn't help but pitch the tech to law enforcement.
ALERT: Amazon built a dystopian facial recognition tool—Rekognition—and they've been quietly selling it to police and government agencies. Sign the petition to tell Amazon to immediately get out of the surveillance business, before it's too late: https://t.co/wyfRzIRWuy pic.twitter.com/KUYvSsfEXy

— Fight for the Future (@fightfortheftr) May 23, 2018
The 2 pilot programs have already nabbed bad guys in real-time using body-camera image databases. But critics believe the system endangers people "labeled suspicious by governments such as undocumented immigrants or black activists."
Amazon reps have, however, defended the e-commerce Goliath saying, "quality of life would be much worse" without controversial technology like Rekognition. But Amazon's not the only company that's watching you. Earlier this month, Chinese police deployed facial-profiling technology to arrest a man in a crowd of 60k people at a concert.
Sony buys rival for $2.3 billion, but it still doesn't own 'Thriller'
Sony has announced a deal to acquire 90% of its publishing competitor EMI Music Publishing for $2.3 billion. The agreement, still pending regulatory approvals, values EMI at $4.7 billion. And if this goes through, it will add more than 2 million songs to Sony's already iconic catalog. We're talking the rights to songs by The Beatles and Kanye West (don't worry, they already had Beyonce).
Sony was already the biggest music publisher in the world. Now, if everything goes as planned, they'll own the publishing rights to some 4.4 million songs. Sony signed the deal with EMI to buy all 60% of its holdings, giving the entertainment company close to a 90% stake (it owned 30% prior to the deal). In 2016, Sony bought 50% of ATV for $750m — but that still didn't include the 10% of EMI owned by the Jackson estate; specifically MJ's songs.
The transaction is the first major move by Sony's new CEO Kenichiro Yoshida, who on Monday said he plans to double down on the firm's already massive entertainment division. And part of that means focusing on the publishing rights of the entertainment industry.
Satellite startup ICEYE raises $34 million to see through the clouds
In January, ICEYE proved it could operate a synthetic aperture radar on a microsatellite. Now, the company is preparing to launch a constellation. ICEYE, which makes satellites capable of seeing through clouds to provide clear pictures of the surface just raised $34 million. The startup manufactures microsatellites that are lighter than 100kg but capable of imaging the Earth using synthetic aperture radar (SAR) rather than cameras or spectroscopes.
Founded in 2012, the company has raised about $53 million to date, including support from Finland and the EU. In January 2018, the company launched its first satellite, which is now successfully transmitting SAR images to Earth.
Now that the first satellite has successfully demonstrated that the company's tech works, it will use the new capital to further develop its technology and launch additional satellites. ICEYE is now looking for rides into orbit for those spacecraft.
After Spotify, Adyen becomes Europe's next major tech IPO
The floodgates are definitely open for IPOs in the tech world right now, and the latest is coming out of Europe. In what could become one of the largest IPOs for a European tech company this year, payments startup Adyen plans to go public next month. This will give the company a valuation of between €6 billion and €9 billion.
While Stripe has carved out a niche serving small-scale retailers, Adyen has pursued bigger companies with global businesses. Its clients include Spotify, EasyJet, Uber, Mango, Netflix, and Vueling.
When eBay announced its plans to ditch PayPal in January, sending PayPal shares down 8.5%, the online marketplace revealed that it would be transitioning to Adyen as its new processor.
Ireland's voting on whether or not to repeal one of the world's strictest abortion laws
Ireland is a historically conservative Catholic country. Just in the last couple decades, contraception and divorce both became legal. The Constitution's Eighth Amendment recognizes the "right to life of the unborn." It made abortion almost entirely illegal, even in cases of rape, incest, and deadly fetal abnormalities. A decade after Roe v Wade gave women the right to an abortion in the US, Ireland added the amendment to its constitution in the 80s.
Supporters of this law say this is about human rights — and that includes fetuses. But critics of the amendment are saying this is about freedom for women — and this amendment is archaic.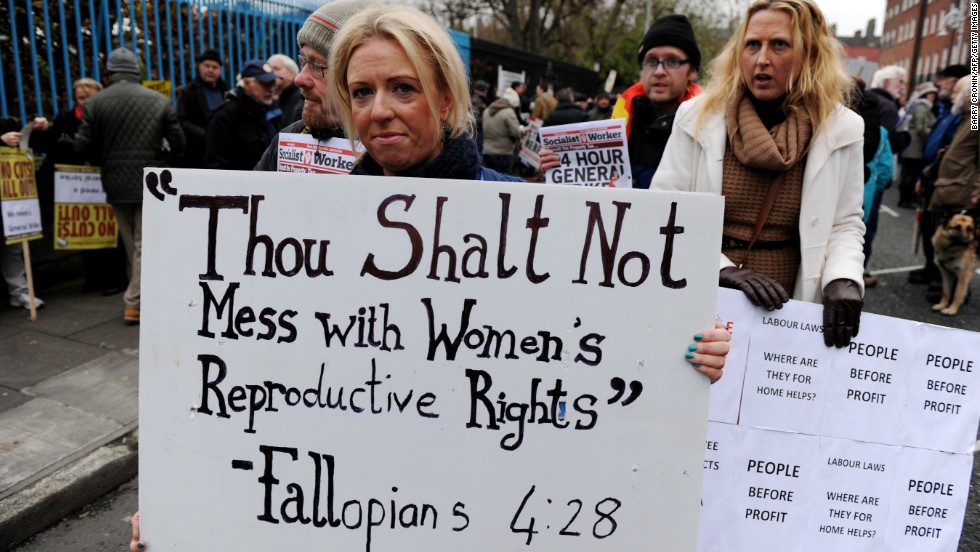 It's however unclear what's going to happen as polls show that almost one in five voters are still undecided. So it could still go in any direction. The vote is a huge moment in Ireland's history. Thousands of Irish citizens living around the world are even going #HomeToVote to make sure their voices are heard.
Silicon Times
Events
Jobs
Opportunities
Featured Articles
[gtranslate]