Today's Quote
"The blockchain cannot be described just as a revolution. It is a tsunami-like phenomenon, slowly advancing and gradually enveloping everything along its way by the force of its progression."
William Mougayar
Africa
NIPC launches
iGuide Nigeria
The Nigerian Investment Promotion Commission (NIPC) has formally launched the iGuide Nigeria, an online guide to doing business in Nigeria.
According to a statement from the Commission, the iGuide is an easy-to-use online platform providing investors with up-to-date and pertinent information on the processes, procedures and basic costs of doing business in Nigeria.
iGuide Nigeria is a marketing tool, as information on Nigeria's investment processes and procedures are on one platform for easy access.
Cameroon launches support program to fight against Armyworm
The fall of Armyworm this year has disrupted the production of food and Agriculture in Cameroon. The fear of this ragging the country's economy backward is inevitable. In order to stop the worm attack and further damage, the government has implemented an 18 months program.
According to Louisette Clemence Bamzok, in charge of agriculture development at the ministry of agriculture and rural development, Armyworm has destroyed about 75% of the country's cereal production.
The programme is to help fight against the worm and of course, provide jobs for farmers. Also, it will give them knowledge of how to tackle the problem if eventually, it occurs again.      
Video of Cameroon military brutality causes online outrage
There was an online rage among English-speaking Cameroonians within the week, after viral social media video showed how security officials severely abused a suspected separatist leader. The suspect's hands were tied behind and he was made to lie on his belly in muddy conditions. He was then kicked and his head, stamped upon by some of the gendarmes.
In a reaction to the video after multiple condemnations, the Minister of Defense, Beti Asomo, condemned the act by the gendarmes, stating that they acted "clearly out of the norms and legal techniques in such circumstances…An investigation has been opened to identify (and) where appropriate sanction the perpetrators of these acts contrary to respect for human rights," said the minister.
This is the second time the population has launched an investigation into a case of military brutality in the course of the Anglophone crisis. The results of the first investigation into the police killing of a school child in Kifem are still not known. Other brutal killings have taken place since then without investigation. What makes this case special is the question many have been asking.
Fintech firm, Cellulant raises $47.5 million to expand operations
The Rise Fund, a private equity firm, just led a $47.5 million investment a few days ago in Cellulant, a leading Pan-African digital payments provider with operations in Kenya and Nigeria.
The last time an African startup made a deal of this magnitude, Flutterwave stole the headlines with its $10 million Series A funding round. Cellulant's, however, not only surpasses that but has now become the largest involving a fintech company operating in Africa.
It however comes as no surprise that Cellulant will flush a huge part of this investment into expanding its most popular mobile platform, Agrikore, a blockchain-based mobile platform that serves more than 7 million farmers across the African continent, connecting them to the market and helping them easily sell their products to a broader spectrum of buyers.
Ghanaian shoe seller to challenge a President in a court of law
A Ghanaian shoe seller, Mr. Martin Kyere has promised himself not to rest until Mr. Yahya Jammeh, the former President of the Gambia is brought to justice. According to Kyere, the Gambia's former leader, Yahya Jammeh, a murderer of 55 Ghanaian migrants, who were mistaken for coup plotters.
Mr. Kyere, who is the only survivor, out of the 56 migrants mainly from Ghana and Nigeria, is a key witness in an international effort to bring the former president to justice. The 55 migrants killed in July 2005, appear to be the single largest mass killing during Jammeh's 22-year reign as president.
Yahya Jammeh is presently on exile in Equatorial Guinea since January 2017. He went into exile under a regionally-brokered deal after losing the December 2016 presidential election to Adama Barrow. Is it a case of a hunter suddenly becoming the hunted?
MEST Africa Challenge announces Regional winners
The pan-African startup, MEST has announced its Regional winners for the inaugural MEST Africa Challenge. The pitch competition was open to companies outside the MEST program and has now chosen winners from Ghana, Nigeria, Kenya and South Africa.
The Ghanaian winner was Cowtribe, a USSD-based technology that connects livestock farmers with veterinarians who can provide vaccinations, while the Nigerian winner was Accounteer, a SaaS company offering accounting and payroll management software tailored to the needs of African SMEs. Data Integrated, a payment processing company for the public transport industry, was the Kenyan winner, while the South African winner was Swift Vee, a livestock and agricultural trading platform.
These winners will pitch their companies in front of leading global investors, entrepreneurs and executives at the finals in Cape Town on June 20, during the MEST Africa Summit, for a chance to receive up to $50k USD in equity investment.
Young Senegalese designs SimulaMath to simplify the mathematics
Michel Seck, a 25-year-old mathematics teacher at the Cheikh Anta Diop University in Dakar has designed SimulaMath software. He specializes in coding, cryptology, algebra, and applications.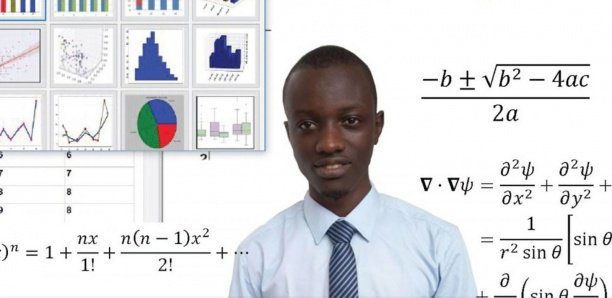 SimulaMath software is a simulation and computation software that de-complexes mathematics, which is often treated as a tough task. It analyzes linear algebra, number theory, 2D and 3D graphs, probability, statistics, arithmetic networks, error correction codes. Its advanced calculator covers almost all domains.
This is an invention that deserves to be congratulated and encouraged.
Tunisia government opted digital technology for greater transparency  
Currently in Tunisia, the procedure in which the cases of corruption are regularly reported has caused a hindrance to transparency. In the search for greater transparency, the government has set up an electronic bidding system called Tuneps.
According to the government, the main objective of the platform is to make internal administrative procedures fluent. The platform will also help to determine responsibilities in case of fraud or corruption in the public procurement process.
Hopefully, this new tool will enable the Tunisian government to improve the efficiency of public procurement and also boost its competitiveness.  
Uganda wants to waste the resources of the poor on the already rich
The Ugandan parliament has recommended that former legislators receive a one-off payment of 100 million Uganda Shillings ($26,000; £20,000). The Speaker of Parliament Rebecca Kadaga told the press that the payment was to "recognize the lawmakers' contribution to the development of the nation".The MPs had already been given $8,000, an amount President Yoweri Museveni described as " too little".
Former lawmakers had complained that it was difficult for them to get jobs. Another former MP, Angelo Drani is quoted as saying to his fellow politicians that  " we are in the wee hours of our lives and requesting you to give us assistance".
President Museveni is expected to grant the request and the Lawmakers who served between 1962 – 2001 are expected to benefit from the package. It is an embarrassment that former Lawmakers who are expected to have made huge investments during their careers, still depend on the state treasury, in the name of recognition. Any Lawmaker who cannot employ or get employment in one way or the other after his political mandate lacks capacity and puts the credibility of his political mandate to question.
World
Is Net Neutrality finally back?
The US Senate on Wednesday voted to keep net neutrality, weeks before the FCC finally takes it away. Net neutrality refers to the Obama-era rules that prevent Internet service providers (like Verizon or Comcast) from giving some websites a faster connection than others. The FCC had voted last year to repeal it.
The FCC's changes after the repeal were supposed to take effect next month but supporters of net neutrality argue that getting rid of it will give providers new opportunities to invest in upgrades to their networks. They contend that the new rules will give too much power to providers by allowing them to create "fast lanes" for websites that can afford to pay more for faster service, and could mean extra fees for users.
The Senate, therefore, passed a measure to keep the old net neutrality rules. Congress is now going to also vote on it, where it's expected to concur with the Senate. This could be a talking point in midterm elections campaigns where many voters have different opinions about their Internet.
Is iZettle PayPal's jackpot?
In a seeming bid to up its game against payment processors–Stripe and Square, PayPal have concluded plans to acquire iZettle a Swedish payments provider. TechCrunch reports acquisition of the Stockholm-based startup will be in a $2.2 billion all-cash deal.
The timing of the deal is notable. It comes on the heels of iZettle filing for an IPO earlier this month in a bid to expand. iZettle had, however, planned to raise $227 million on the Stockholm Nasdaq exchange, which would have valued the company at around $1.1 billion.
PayPal itself, however, has a market cap of around $94 billion. In its last earnings, the company had $7.8 billion in cash and investments, giving it ample funds for this deal. This is PayPal's biggest acquisition ever. For some context, in 2015 PayPal acquired money-transfer startup Xoom for $890 million. And when it was still a part of eBay, in 2013, it acquired Braintree and its Venmo business for $800 million.
Did Trump blink on China to help ZTE or his business?
The bizarre recent tale of ZTE is getting another wrinkle. Donald Trump is already handing out concessions to China on trade rules, and the big question is why. Chinese electronics manufacturer ZTE is at the center of a burgeoning trade conflict. ZTE is near bankruptcy because the U.S. has forbidden U.S. companies to sell it vital components after it was caught red-handed violating international sanctions in Iran.
Then, Trump changed course, announcing "too many jobs in China lost." He promised to fix the problem as part of a larger trade deal. And of course, for the sake of his personal relationship with Chinese strongman Xi Jinping. But the question is, did Trump get anything out of this negotiation for the American people?
Agence France-Presse reports that Chinese state enterprises will provide $500 million in loans to a development project in Indonesia that will include Trump-branded hotels. The project stands to funnel millions of dollars into the Trump Organization, the president's private business. With all the ambiguity, it's, however, difficult to understand who the president is actually negotiating for.
Will you Exodus to HTC's new blockchain-powered smartphone?
Smartphone innovation may have stuttered to a halt in recent years. But HTC has a plan to reinvent the ubiquitous device. The Taiwanese firm explained how it will utilize blockchain technology to support cryptocurrencies like bitcoin and ethereum. The phone, named Exodus, will feature a universal wallet and a built-in secure hardware enclave to support cryptocurrencies and decentralized applications.
According to HTC, users will also be able to purchase the phone itself using cryptocurrency. The firm, however, is yet to reveal the price and its release date. While HTC isn't the first to think of a blockchain-powered phone, there's not really much information beyond that.
But the real question is this: what will the HTC Exodus–or any blockchain-powered phone–offer that regular smartphones can't already? You can trade cryptos with regular smartphones. You can also run DApps and privacy-oriented browsers. While you can trade specific cryptos for free on something like the HTC Exodus, you're still going to have to pay mining fees for cryptos like Bitcoin, regardless of the type of phone you use.
HTC is clearly gunning to make a splash as its numbers have shrunk in overall proportion to a declining smartphone market. Even with rapidly increasing awareness and interest in the crypto space, however, it's hard to imagine Exodus making much of a splash. Maybe it has something in mind that we haven't thought of yet.
In Australia, Google's harvesting what Facebook has been harvesting for years
Facebook isn't the only company whose user data policies have captured global attention. Google is now under investigation in Australia for large-scale data harvesting from millions of Android smartphones without users' permission. This data includes location information regardless of whether a user has turned off their location or does not have a SIM card.
Oracle's report claims that the transfer of information uses up part of a user's data quota each month. With over 10 million Android users in Australia, it raises serious privacy concerns so soon after the Facebook-Cambridge Analytica scandal.
Nevertheless, this is not Oracle's first entanglement with Google. In 2010, Oracle sued Google for purportedly injecting portions of Oracle's Java platform into Android without a licensing agreement; Oracle lost the case. More recently, Oracle funded various non-profit groups to smear Google's name. Google and the Australian Competition and Consumer Commission (ACCC) have battled each other in the past as well. Google, however, insists that it only collects such data after a user grants permission.
A drawback to peace in the Korean Peninsula; whose fault is it?
There has been a setback in the roadmap to peace on the Korean Peninsula. The North Korean government has threatened to abandon that planned historic summit between its leader Kim Jong Un and US President Donald Trump, which is set for next month in Singapore.
According to Pyongyang, the U.S. wasn't going to teleguide it into nuclear disarmament. The development is coming after the regime suddenly suspended high-level diplomatic talks with South Korea on grounds that the South is currently conducting military drills with the US.
Kim recently had a historical and well-publicised meeting with the South Korean President Moon Jae-in last month, in which the two leaders agreed to officially end the Korean War. North Korea is noted for often engaging in a charm offensive and then backtracking. However, analysts have expressed doubts if the North will abandon an opportunity to engage directly with a US president, a chance they have been seeking for a very long time.
WHO summons urgent anti-Ebola meeting
The World Health Organisation has summoned an emergency anti-Ebola meeting. The meeting aims to discuss measures to be taken in order to counter the spread of the Ebola virus across the borders of the Democratic Republic of Congo (DRC).
The arrival of #Ebola in an urban area is very concerning and WHO and partners are working together to rapidly scale up the search for all contacts of the confirmed case in the Mbandaka area in #DRC🇨🇩 https://t.co/sdiHElFTZW pic.twitter.com/ZMJGkVwwFI

— World Health Organization (WHO) (@WHO) May 17, 2018
Congo's government has recently identified a new Ebola case in Mbandaka, a more than one million inhabited city. This has raised fears of the disease spreading downstream to Kinshasa, the capital city, and other countries.
The WHO is preparing to distribute an experimental vaccine which is expected to be stored at extremely low temperatures. This is going to be a major challenge particularly in areas with unreliable electricity supply.
Silicon Times
Events
Don't miss out on the

 Sustainable Building Design and Construction

 Seminar in Ecole Nationale Supérieure des Travaux Publics – ENSTP Rue Elig Efa Yaounde, Cameroon. From   May 23, 2018, 8:30 am to May 24, 2018, 8:30 pm. WAT. 

Attend the

Douala Legal Tech Forum

 At Hotel Sawa 488 Rue de Verdun Douala, Littoral; from May 30-31, 2018, 9 am- 8 pm.

Attend the

Live Smart City

Travel, Live, Work & Startup at Abuja-The World's First. From November 23, 2018, 9:30 am to November 24, 2018, 6 pm at Sheraton Abuja Hotel, Ladi Kwali Street Abuja, Federal Capital.

Don't miss out on the

Digital Africa Conference & Exhibition

2018-From June 5, 2018, from 9 am to June 7, 2018, 1 pm WAT. At Shehu Musa Yar' Adua Centre, Abuja, Federal Capital Territory Nigeria.

Grab an amazing opportunity to meet Human Resources Professionals in the

Workshop on Writing HR Policies and Procedures,

on November 12-16, 2018, 9am-5pm. At HCA Learning Centre. Acme Road, Ogba, Ikeja, Lagos or MAAS Central Hotel, Eastern Bye Pass, Old GRA, Port Harcourt.Nig.

Attend the

Africa Trade and Investment Global Summit:

Conference & Exhibition on June 24, 2018, 7:30 am to June 26,  2018, 9 pm. At the World Trade Center-Ronald Reagan Building 1300 Pennsylvania Ave NW Washington, DC 20004 United States.                                        

Take part in the

Safina, MENA, Turkey & Pakistan Symposium on

May 29, 2018, from 1:00 pm – 5:00 pm EDT at Tower Club – Tysons Corner 8000 Towers Crescent Drive #Suite 1700 Vienna, VA 22182 United States.
Jobs
Opportunities
Featured Articles
[gtranslate]